EXPR
S
ESS CITIZENS' RELIEF FUND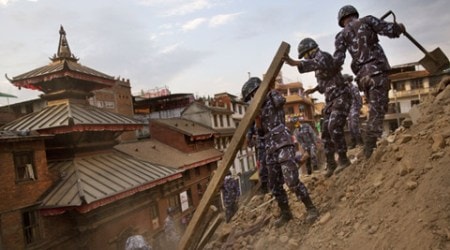 The death toll from the 7.9 magnitude earthquake that struck Nepal on Saturday has risen to more than 3000. The beautiful city kathmandu has turned into ghost city.
The earthquake that ravaged parts of Nepal on Saturday triggered an avalanche on Mount Everest that had killed 17 people. 
In 1934 — 81 years ago — more than 10,000 people died in a magnitude 8.1 earthquake in eastern Nepal.
On the Indian side, too, there have been deaths and damage. To help residents in the disaster zone. The Indian Express has set up a Relief Fund.
Our little contribution can save a life!
EXPRESS CITIZENS' RELIEF FUND
Your contribution will be eligible for tax deduction under Section 80G. The
 tax-exemption certificate will be sent to you.
Please mention your 
address with PIN code, 

phone number and 

Permanent Account Number (PAN)

You may send your cheques payable to: Indian Express Citizens' Relief Fund

And send to:

The Indian Express

C-5, Institutional Area, Sector 6

Panchkula 134109

Haryana



for more details
Indian Express Page link
Your problem isn't the problem. Your reaction is the problem.