The company is gonna launch a new quad-core Exynos processor powered tablet with HD display.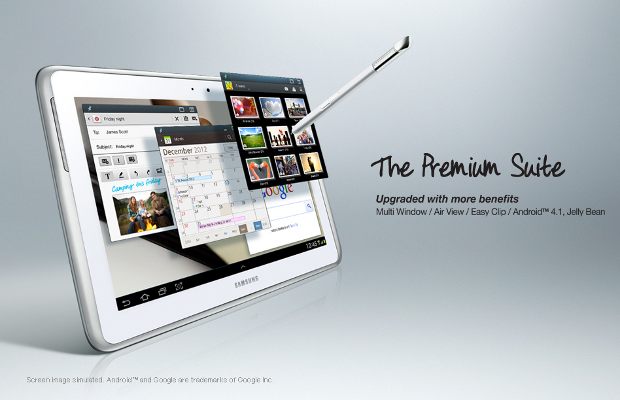 It will be called GT-N5100
[size=2]Its an 8.0-inch, HD LCD display tab with a S Pen stylus.
Samsung wants to compete with Apple's  - iPad mini.
Will be having  2 GB RAM.
It comes in two models -  Wi-Fi Only (GT-N5110) and WiFi+3G (GT-N5100). The tab will measure 7.95 mm and weight is
abt 330 grams.
Rear Cam is of 5 megapixel and front is of 1.3 MP.
Internal Memory can be of 16 and 32 GB.
Support upto 64 GB Micro SD.
Has Bluetooth 4.0 and A-GPS.
Regards
Sritam
[/size]
Possibly Related Threads...
Thread
Author
Replies
Views
Last Post
Samsung Galaxy S6 may be one of the most powerful smartphones in 2015
Srini
0
810
28-01-2015, 11:49 AM
Last Post: Srini
Samsung 34-inch curved monitor Specifications
Srini
0
624
23-12-2014, 01:32 PM
Last Post: Srini
Samsung Z1 Tizen OS Smartphone - Specifications and Price
Srini
0
777
23-12-2014, 11:21 AM
Last Post: Srini
Google introduced a new spam filters in Gmail
Srini
0
647
17-08-2014, 09:05 PM
Last Post: Srini
Samsung Galaxy Golden Android Flip Phone.
Dhilipkumar
0
718
30-10-2013, 10:02 AM
Last Post: Dhilipkumar
Children's tablet from Samsung
Srini
0
803
29-10-2013, 06:09 PM
Last Post: Srini
Samsung galaxy s4 VS nokia basic mobile...!!!
Karthickvijay
4
1,324
29-06-2013, 08:02 PM
Last Post: Karthickvijay
Samsung Galaxy Note III will be released at the end of the summer
Srini
1
882
29-06-2013, 05:40 PM
Last Post: Karthickvijay
Samsung Galaxy Note 8.0
WR1334
6
2,203
31-05-2013, 07:07 PM
Last Post: Bheem
Google has introduced a New Compression Technology - Zopfli
Anna University
3
1,716
04-03-2013, 08:52 AM
Last Post: koushik